Review Splatoon 3 Nintendo Switch
Review Splatoon 3 Nintendo Switch – Experience exciting adventures
Splatoon 3 was released for the Nintendo Switch on September 9. In this game, players are transported to the sun-drenched Splatlands, where heated competitions, stylish costumes, over-the-top weapons and colorful ink spatter set the scene for the Inklings and Octolings that live there. Recently I was allowed to review this game, here you can read what game it is and how it works.
Splatoon 3 the game
In Splatoon 3 for Nintendo Switch, players can shoot ink with their weapons to color environments or temporarily disable enemies. In addition, players can switch to swimming form to slide through their own ink color at lightning speed. In swimming mode, players can also climb up walls, slide through fences, and fill their ink tank.
There are three main modes in the game
Splatoon 3 features three main modes: Ground War, the iconic four-on-four battles in which teams must claim land with ink, Salmon Run, a co-op mode where a four-player team takes on hordes of Salmonites to collect golden eggs, and "The Return of the Mammalians". In this campaign, a single player must battle as Agent 3 against the evil Octorians. Additionally, the limited-time multiplayer events called Splatfests are returning to the series.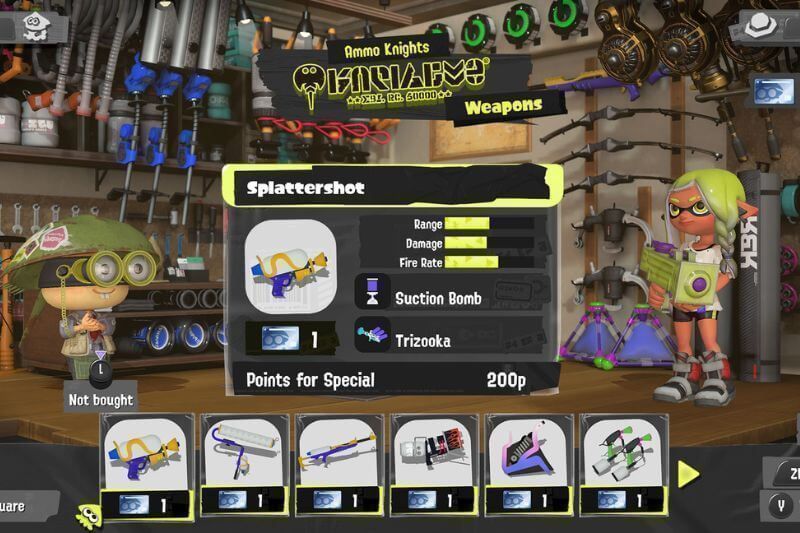 If you already know this game, part 3 is still fun
We're talking about Splatoon 3 now, so you might already be playing the first games of it. Is part 3 still fun?? Absolute! Splatoon 3 offers a wealth of content and features that both old and new players will love.
All weapon types from previous games are back, supplemented with new weapons. In addition, there are two new actions to maneuver even more smoothly: the ink roller and wall boost. Splatoon 3 features many new and expanded customization options and equipment items, which will be available in Splatsville stores.
The latest outfits, victory poses, locker decorations and more can also be found in the seasonal catalog (each season lasts three months).
Play together with others
Every mode accessible through the game's lobby, with the exception of the Chaos Battles (series), can be played with friends. For the first time in the series, it is possible to continue playing with the same group after the end of a game. Through wireless communication, players can play different game modes with nearby friends.
What do we think of this game
Splatoon is a new game for us. We didn't know it yet, but that doesn't matter of course. I myself am not as dexterous with the controllers as my kids, but I have to say that even though I am not that fast, I can manage quite well in this game. Okay I take longer to complete the levels than the boys, but I have a lot of fun playing and it makes me fanatical.
The nice thing is that although it is a shooting game, you don't shoot with bullets but with paint. This makes it all a lot nicer. You can play different games, I'm currently doing a lot of four against four games myself, to grow in the levels. Because the higher in level, the more you can buy new weapons.
In the four against four ground battles, you must cover as much ground as possible with paint. You can also do assignments to practice more and more with all functions.
A relaxed game that will make you fanatical
Splatoon 3 is a game that you can get pretty fanatical about. If you are on a mission, you want to complete it. Regularly during the game, you need to refill ink. You do this by swimming in the paint.
You can also climb up buildings while swimming. Swimming is much faster than running and is therefore a button that you use a lot, just like shooting. Spaltoon 3 on the Nintendo Switch is a relaxed game.