Why the course Clean up your life follow discount code
Why take the course 'Clean up your life' discount code
You know it? A drawer in your closet full of photos'that still need to be pasted in. A shelf with children's clothes lying in the dust. The stairs up, full of toys, laundry and more? But tidy up or throw away?
Ho but! Here in the house it was actually quite normal. At the beginning of January I was asked if I wanted to participate in the online course program 'Clean up your life'.
Six week program to learn how to tidy up. That sounded good to me. In these six weeks I would learn to tidy up and throw away.
I managed? Is my house (and head) cleaned up? Read on and who knows, maybe you will join this program yourself starting March 24.
Course
Taking a six-week course to get my home and life more organized was something I was looking forward to. We live in a terraced house. Have plenty of space, but also plenty of junk. The husband and I already have trouble throwing things away, but my children are really good at it.
They save everything! Personally I find it hard to throw things away. Because imagine that you might need it again.
So you understand, I could use some help.
Clean up your life
The course is taught through Good Life Academy. When I registered I received a login code and could start the course right away. The course begins with a beautiful sentence by Iris from Clean Up Your Life:
Tidying up is something you can learn. With simple interventions you can make a world of difference. Tidying up is much more efficient and you make sure the same chores don't keep coming up over and over again.
You get rid of the clutter around you forever.
I started the course by downloading and reading the workbook and watched the first videos that Iris had made for week 1. I kept in touch with other students through a closed Facebook group.
Tidying up
The course 'Clean up your life' lasts six weeks. In the first week you start filling in the workbook and you are immediately confronted with your own tidying up. Describe your goals and face your own pitfalls. In week two you actually get to work cleaning up.
Iris has several videos online each week and they are very enlightening. Iris explains everything well in the videos and this also invites you to get started. She explains the tasks you have to do well and clearly.
After which you can start right away, but also want to.
For me, the actual tidying up started in the attic. I first prepared a toolkit including trash bags and cleaning wipes and also watched the video on the different methods for effective tidying up. After this I enthusiastically started to tidy up and it was much needed. Drawers were cleaned out, stuff was thrown away, piles of photos were collected and put neatly in a shoe box.
And my administration (another stumbling block) went into folders.
The weeks were intensive
Topics such as pitfalls and doubts were discussed. But also how you could keep the focus and what you can do with all the cleared stuff (besides throw it away). The weeks were intensive.
Watching all the videos, completing the workbook and then actually getting started. I really made time for it every week and that was necessary too. With results. Because after the attic, it was the boys' rooms' turn.
But our stairs are empty of junk these days.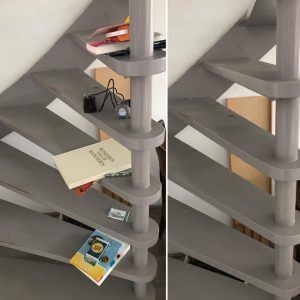 Good life Academy
I followed the program ' tidy up your life" at the Good Life Academy. I have previously taken an Online Pilates course here and am again impressed with the professionalism of the course. As good as it was taken care of in terms of workbook, clear videos's and pleasant Facebook group.
Would you also like to follow this course?
I have benefited a lot from this program. By understanding why I keep everything, I was also able to let go and tidy up. There are no more things on my stairs (I immediately take them upstairs) and my attic is also tidy and orderly. I find that a tidy house gives me a tidy head as well.
It all feels less rushed and I am really at home in my own tidy house.
Do you have too much stuff and they are in my way? Full closets and don't use much at all? Are you too busy and get nowhere?
You will always be there for everyone and not have time for yourself?
If you look familiar with the above? And are you excited about the program. The next Online Course starts on March 24, 2018 . Sign up through the site and fill in the discount code 'Lodi'. You will pay €87,00 instead of €187,00.
It's a lot of money, for sure. But if you just can't manage to clean up, this is a great program to follow.
Which room in your house really needs cleaning up?