Duvet cover from Witlof for Kids
Duvet cover of Chicory for Kids
Last month I was at the Negmaandenbeurs and there my attention was drawn by a Witlof for Kids stand. A super hip and new label with an ingenious solution for bedding that has a life of its own. I received a duvet cover for the little man to test.
You can now read what I and the toddler thought of it.
Review; duvet cover from Witlof for Kids
Witflof for Kids is a brand new brand with an ingenious bedding system that goes in all directions. I have two very active children. The eldest gets out of bed at least once every day because his duvet is no longer good.
The youngest is such an acrobat that, sleeping bag and all, she wakes upside down every time. Her sheets are then everywhere, except where they belong. Witlof for Kids has designed the Tuck-Inn® bedding for this.
A super simple solution that makes the bedding in place.
Chicory for Kids
A sustainable brand with high quality and a perfect finish, that's what you think of when you see the Witlof for Kids products. Designed by two mothers who value safety and quality. In addition to pacifier cloths and hot water bottle bags, they have marketed their own bedding.
All blankets, sheets and covers are fitted with elastic in the corners on one side, making it super easy to make up and the bedding cannot be kicked loose. All products are made of high quality fabrics and produced in a sustainable, labour-friendly manner. I myself am a big fan of the finish because all products are beautifully finished with a piping and can therefore be used on both sides.
Our experience with the duvet cover
Last week I received a very nice package. My followers on Facebook and Instagram already saw a preview. Just unpacking was already a party. We received a single duvet cover from the series 'Lof you to the moon and back'. The duvet has a graphic print in black and white on one side and the other side is ocher yellow.
If you took a look at my oldest's nursery a while ago, you could see that we also have ocher yellow in the accessories in his room. This duvet cover is a perfect match.
I was immediately enthusiastic because the fabric feels very soft (100% poplin cotton) and the colors are very beautiful. I made his bed in no time. Such a tree house bed is nice, but it is quite a condition to put the duvet in properly.
With this duvet cover, that was done in no time.
The little man was allowed to test it and found his bed extra cool now. He just thought that he should now also have matching pajamas. Chicory for Kids has that (yet?) not in the range. But after a few words, his robot pajamas turned out to be very suitable. Mister crawled under his duvet and slept wonderfully.
And indeed, the duvet cover really stayed in place. Mister could move and ghost all he wanted, but the duvet cover stayed really neat over him.
So I'm going to have a look for the little girl. In the webshop you will also find blankets and sheets for a cot. We are currently even working on a line for cribs, so soon all your children will be able to lie under such a nice Tuck-Inn® sheet.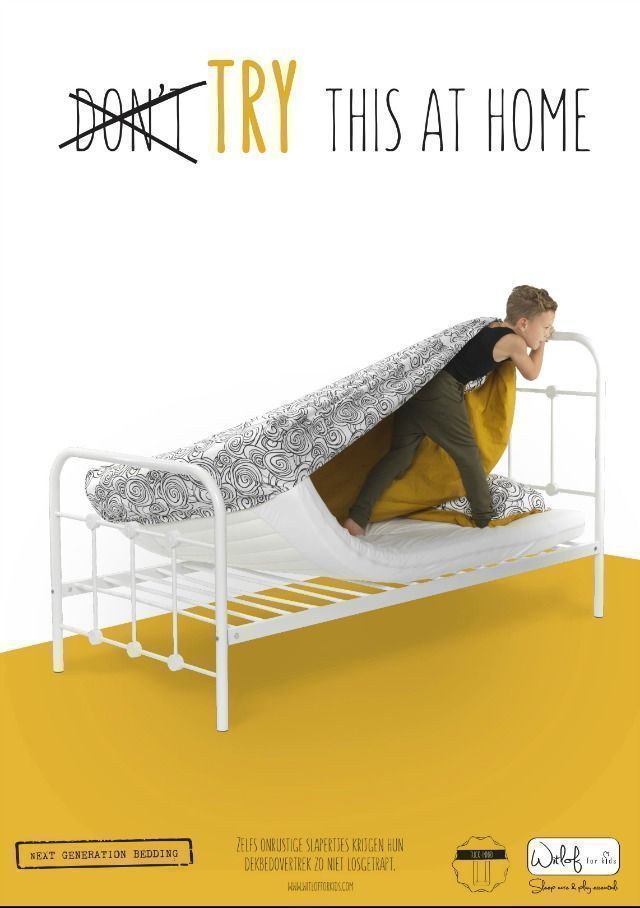 Just as excited as we are?
Then quickly go to the Witlof for Kids webshop and have a look around. The products are well worth the price. You will enjoy this for years.
Did you already know this awesome brand? Do you also think the Tuck-Inn bedding is such a smart invention?
♥ ♥ ♥ Affiliate links are used on Fulltime Mama. This means that if you click on one of the links, we may receive a small commission. It costs you nothing extra, but it does give us something. With these proceeds we can maintain this website. We also sometimes get paid for an article or we get a product in exchange for a blog post.
Our opinion therefore remains unchanged and honest. For more information you can read the disclaimer. ♥ ♥ ♥