Incredibly fun for kids to draw
Spiralz! – Great fun for children to draw
spiralz! Are based on the spirograph game for children. Got these recently at a supermarket promotion. Next to the spiralz! there were special rings and a book to get when you did a certain amount of shopping.
What can you do with it?
spiral samples
Every Spiral is different and has its own character. You can see that in their drawing style. Some Spiralz are very neat and make beautiful ornate drawings. Other Spiralz are a lot rougher and make cool circles and striking circles. You cannot use the Spiralz without the special ring.
But there are more extras! In each flow pack there are stickers to turn your drawing into super cool spiral monsters.
Multiple Shapes
The book explains very clearly which ring you should use to make which shape and because there are multiple 'eyes' inside each spiral to put your pencil tip in, you can make different shapes with one spiral. Even when you've used the stickers from the flow pack you can still make great shapes.
Once you get the hang of it
At first we had to have a good look at exactly what to do to get these shapes and how it all worked. When we figured it out and the boys got excited, of course I wanted to try it too. Quite tricky! The boys love it.
They are already real pros!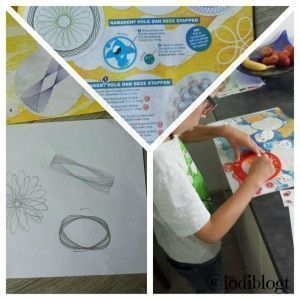 For Sale
Since I was curious if these spiralz are also for sale, I started looking around the internet and came across this spiral designer character set. If you are looking for a nice, creative gift, the spirals are highly recommended because in addition to beautiful drawings, children can really use their creativity here.