Long trip with children Countdown DIY
Traveling far with kids Countdown + DIY
Countdown to something fun we all do sometimes. Countdown to your birthday, to the holidays and to a night on the town. But then why not count down to your vacations? Children find it exciting and fun at the same time to go on a trip. Younger children canand It's just not clear how long it will be before their adventure starts.
So I made a countdown calendar to mark off the last few nights before our trip.
Travel with kids; Countdown
I love countdowns. Last year you could already see how I made a nice advent calendar and a countdown calendar to Sinterklaas. On Pinterest you can also find a nice DIY with which I counted down to our trip to Sri Lanka.
This time we are going to Costa Rica and of course a nice way of counting down goes with it.
Why countdown?
You might think that counting down to a trip only adds to the excitement of your child. However, I believe that this is just not the case. A child feels exactly what is about to happen. You as a parent are already busy with the preparations.
Maybe there are already lists, bills and piles here and there that you are looking for. You are talking to friends and family about your plans. Your children know that something is about to happen. Young children have little sense of time yet.
If you tell your three-year-old son that it will be another week before you go on a trip, he will probably ask you again in an hour. A week is a very elusive concept for a child. By using a countdown calendar you can make this a little more tangible and especially visual.
DIY; Countdown
I always like to have countdown calendars that fit the theme. Last week you could read that I made a booklet to visualize the trip and for the necessary pre-fun. In that book there is also a toucan. This particular bird we hope to spot in Costa Rica.
I therefore made a Toucan with leaves.
From green paper I cut 10 leaves which I glued individually on a peg. On each sheet I wrote numbers from 1 to 10. I then pinched these on the edge of a large green circle.
Inside that circle I stuck a Toucan. I cut these out of various colors of paper after an example of various pictures of a Toucan. Now it is a matter of counting down.
Every day a peg can come off the circle. Just until the day of the trip arrives.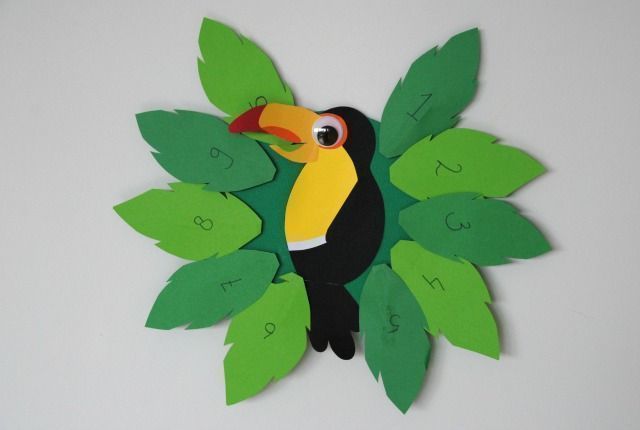 This is an easy but fun way to count down to the vacations or any other fun event. We are looking forward to it!
Do you ever use countdowns through a calendar or crafts??
♥ ♥ ♥ Fulltime Mama uses affiliate links. This means that if you click on one of the links, we may receive a small commission on it. It costs you nothing extra, but it does give us something in return.
With these proceeds we can maintain this website. Also, sometimes we get paid for an article or we get a product in exchange for a blog post. Our opinion remains unchanged and honest because of this. For more information you can read the disclaimer. ♥ ♥ ♥